Who we are
We are a small family operated business located in central NY. Our leather goods are designed and handmade by myself, Pete Gillander. In handing down the skills of the trade you will note that some select items are made by my daughter, Alyeska, and my son Dean. My wife Megan often helps out with our social media, and keeping our lives on track.
Our Values
Our goal is simple, to create useful products that bring a feeling of joy to anyone who handles and uses them. We only use the best quality materials in the industry, and hand make our products using old world traditional leather crafting techniques. The result is fine craftsmanship that stands out.
We don't make things quickly, but it will be worth the wait for a unique quality product to be proud of.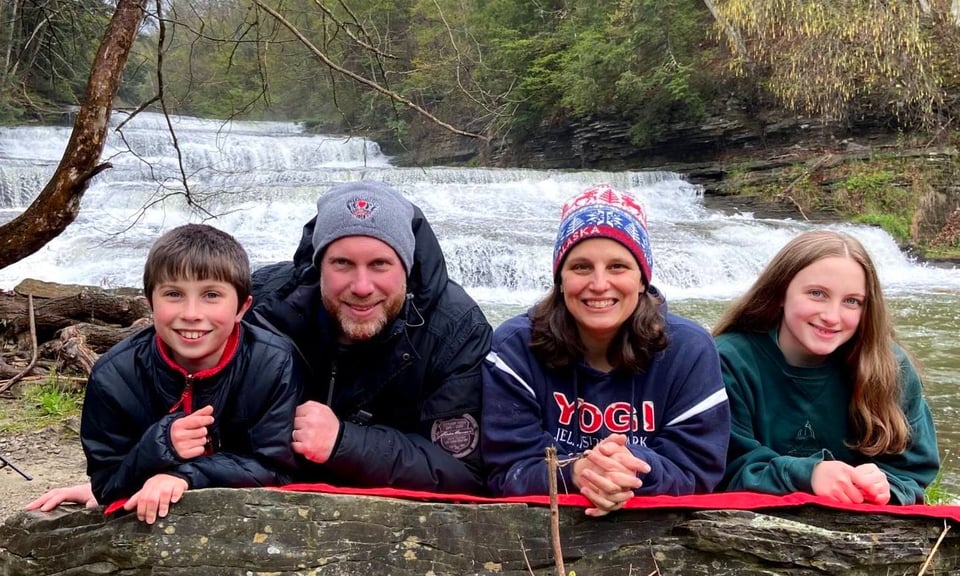 Here is what our customers have had to say;
Mark A; Field Notebook Cover
Best Gifts Are Ones You Want for Yourself
I use field notebooks for patient notes during medical calls, and they tend to get beat up quickly. When I saw these covers, I thought it might be a good solution. I've really enjoyed its looks and functionality. It's robust & durable and keeps gaining character with each use- and it meets the original intention of increasing the useful life of the notebook it's protecting. Pete recommended a custom treatment that has held up very well under heavy use and rough conditions.
I appreciated mine so much, I purchased another for my son who is a field biologist. Pete was kind enough to emboss with my son's initials and even offered a choice of stitching threads.
The pride of workmanship is apparent. The care placed into the product, even down to the shipping, is appreciated.
Sharon Semeniuk; Clutch Wallet
Absolutely Gorgeous and so function-able
I was given this wallet as a gift and I am so impressed. It is gorgeous and the smell of precious leather is a very nice scent. It easily fits into a purse, but is so elegant as a clutch. The workmanship is very classy and perfect. Thank you so much.
Sean Drown; NYS Trooper Shield Wallet
Shield Wallet
High quality and the aesthetics are great
J VanCamp; NYS Trooper Shield Wallet
Shield Wallet
I have been looking for a wallet to replace the one I got 16 years ago, but I wasn't finding one that fit my needs. I contacted Gillander leather in hopes of having a custom wallet that others could use as well. This wallet is more then I expected! The shield fits great, all the cards and information I carry fit, and are organized, easy to retrieve. I rarely carry cash, but the pocket on the outside is perfect. I love the feel of the leather, and the touch of blue line which makes it most unique. The company was easy to work with and more then willing to help in any way to get this perfect. Message them and have them customize one for you! ❤️
Stan Semeniuk
Biker style chain wallet
I just received on of these beauties north of the boarder and it is just a top quality product. Great stitching and just the finest leather. For me I can fit 8 cards in snuggly but I know it will stretch. I will be dealing with Pete again.
Thanks
Sam, aka TheGrownUpKid; Rondaxe Wallet
The perfect front pocket wallet
I am a front pocket guy, am 44 years old, and have never in my life been able to find the right wallet, card holder, whatever. This thing is absolutely perfect. The leather is soooooo nice, and it rides better than any I've ever tried. Thin and wide, and can barely be seen in jeans. It's already broken in for my cards and cash, and it's only been about 8 hours since it arrived. Perfect. Keep up the great work! Can't wait to see what comes next.
Mark; Feather Bookmark
Gift for a voracious reader
I was looking for a gift for a daughter besides the number of books on her birthday list. The trail marker seemed apropos and was very well received. I should have bought a few more for the rest of the family and myself since it keeps getting nicked for other books around the house. Pete's daughter puts the same level of skill and pride in her work as he does.
Don D.
Red Leather Feather Bookmark
My wife reads constantly, and often uses a post-it or other slip of paper for a bookmark. And, that works all right, but certainly isn't special at all.
My wife's birthday was coming soon, so I bought one of these bookmarks for her.
She was very surprised and pleased, and she uses it daily. We are BOTH very happy that she has this bookmark.
The gift also helps out the young middle-school age girl who designed and makes these by herself...perhaps a budding entrepreneur.
I recommend this product very HIGHLY.
mqqn; Valet Tray
Quality touch-point for your day
I like quality feel in objects I use every day. This tray is made from beautiful full-aniline leather, and is very nicely made, with copper rivets and buffed edges. The bottom and outer edges are left fuzzy to keep you from scratching your furniture.
The tray was delivered quickly. A great product from an equally great seller. Still loving my tray!
Mark A; Rondaxe Wallet
Daily Companion
This is my second purchase from Gillander Leather. To be honest, at first I was concerned it was "too nice" for what tends to be hard use of my daily personal carry items, but it's held up beautifully and stood up to going everywhere I do, no matter the environment. The minimalist form factor make it easy to pocket, and it's a tasteful touch of class with jeans, uniform or business attire. Workmanship quality and care are evident. Thanks for the great work and willingness to put together a custom request, Pete. Well done.
Rick T; Rondaxe Wallet
Best front pocket wallet out there
My old and trusty wallet finally gave out last year and I have been on a quest to find a suitable new one.
After a boat load of attempts including a new one of my original brand I finally came across the Rondaxe wallet and could not be more statisfied.
You will not be disappointed!!